OUR FOUNDERS – KEVIN & GLORIA LU
Mr. & Mrs. Kevin & Gloria Lu, are the visionaries and founders of the Celebrate Forever Foundation.
Kevin Lu, a general surgeon in China, is also the CEO and founder of Casablanca Bridal and CB Couture, two of the fastest-growing, award-winning manufacturers, designers and wholesale distributors of bridal gowns, where Gloria Lu works as Chief Creative Director.
With the success of their endeavors, Mr. & Mrs. Lu's desire to give back has been a vision that "everyone who gets married in one of their wedding gowns stay happily married forever".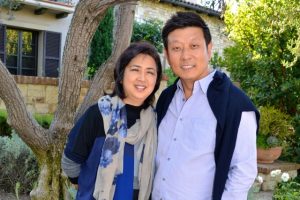 With the influence of wise parents, Kevin & Gloria have a unique story, having met and married in just seven days! They have since spent the last 25 plus years learning, growing and understanding what that wedding day actually meant. In all those years the Lu's have experienced many seasons, from sunshine to rain, cloudy days and storms to even a few earthquakes. They are still learning every day, and their story of growth is one of many at the Celebrate Forever Foundation.
The Lu's have two beautiful children, daughter Crystal, and son Richard, they also share their home with their Pomeranian, Kiki.  Kevin and Gloria Lu's passion and vision is evident through the creation of Celebrate Forever and in their own lives where they truly believe in the power of one person, one couple, one family to change the world and create relationships that can truly be celebrated forever.
Rev. Bryan Hanyoh Kim – Pastoral Counsel
Pastor Kim is a continuing inspiration to the Celebrate Forever organization. He currently serves as a Sr. Pastor at Bethel Korean Church in Irvine, CA and has led numerous churches around the country. He's written multiple books including Embracing, which was dedicated to Kevin & Gloria for their pioneering work with Celebrate Forever. He is happily married to his wife Jennifer for over 28 years and has four beautiful children.